Watch Chad Smith, Jack Johnson Cover Sly Stone With Kids
Rolling Stone
June 10, 2016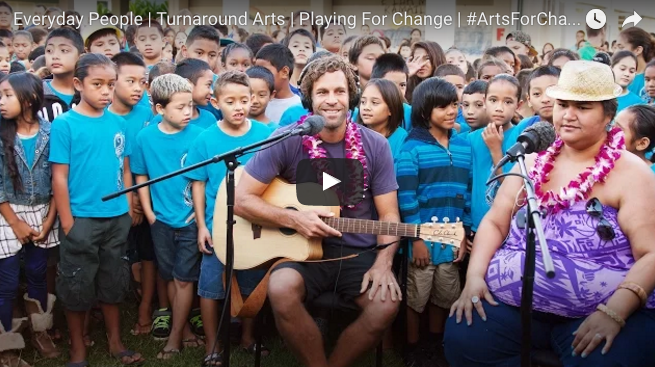 Red Hot Chili Peppers drummer Chad Smith, Jack Johnson, Paula Abdul, Jason Mraz, Tim Robbins, Keb' Mo' and Elizabeth Banks were among the musicians and celebrities to perform music alongside students as part of the Turnaround Arts program. Today, the initiative, along with Playing for Change, unveiled their all-star video for their cover of Sly and the Family Stone's "Everyday People."
Trombone Shorty, Misty Copeland, Citizen Cope, Yo-Yo Ma, former New York Yankees outfielder Bernie Williams, architect Frank Gehry and more took part in Turnaround Arts, the signature program of President Barack Obama's Committee on the Arts and the Humanities (PCAH).
In 2014, Barack and Michelle Obama hosted the first ever talent show at the White House to raise awareness for Turnaround Arts, an event that was attended by Smith, Sarah Jessica Parker, Alfre Woodard and more.
"The arts are central to who we are as a people and they are central to the success of our kids," President Obama said at the time. "This is not an afterthought. This is not something you do because it's nice to do. It is necessary for these young people to succeed that we promote the arts. I hope that events like this help send a message to school districts and parents and governors and leaders all across this country to support the arts. It's a priority."
"For every student who is represented here today, we know that there are so many others who still don't have access to the arts," First Lady Michelle Obama said at the 2016 White House Turnaround Arts Talent Show. "So while we're proud of the progress we've made, we know that we are nowhere near finished. We need to keep on advocating for arts education. We need to keep on expanding the Turnaround Arts Program, no matter who is sitting in the Oval Office next year."