Washington Post: As concert tours heat the planet, artists try to cut carbon emissions
Washington Post
July 21, 2022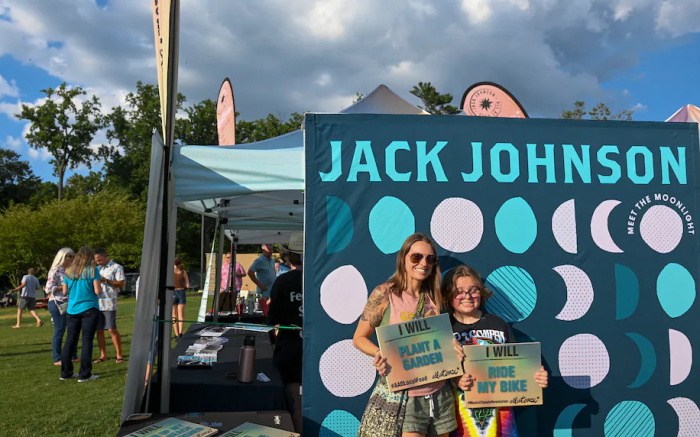 Meagan Landis and her son, Lennon Schultz, 12, have their picture made at the Jack Johnson "Village Green" as he performs July 15 at Merriweather Post Pavilion in Columbia, Md. (Jonathan Newton/The Washington Post)
Thousands of fans, many holding stainless-steel pint cups, sticker-covered water bottles and aluminum cans, cheered as Jack Johnson took the stage earlier this month. Before he began his set at the Merriweather Post Pavilion in Columbia, Md., the grounds were bustling as crowds formed around a stand selling tote bags, reusable utensils and "climate offset" stickers among the usual concert merchandise.
On the venue's jumbotrons, one slide — interspersed with images of environmental advocacy groups — reminded people to recycle and compost at the show.
Johnson used to gaze out after shows at an "ocean" of single-use plastic littering the floors where the audience stood, he told The Washington Post in an interview this month. Now, he said, things like the reusable-pint-cup program and water refilling stations have dramatically reduced the waste he sees.
"When you look out, it's beautiful," Johnson said.