ALL AT ONCE NON-PROFIT PARTNERS:

The tour collaborated with over 220 hand-chosen community groups around the world focusing on plastic free initiatives and sustainable local food systems as well as environmental education, oceans & watersheds, tree planting, and other hands-on community projects.
At the Village Green, fans connected with All At Once non-profits doing good work in local communities. To learn about these organizations visit AllAtOnce.org.
GIVING BACK:

Jack Johnson donated 100% of his 2008 and 2010 tour profits to charity. Jack Johnson's 2008 tour profits were used to establish theJohnson Ohana Charitable Foundation, an endowment founded by Jack and his wife Kim to support environmental, art and music education now and into the future. The Johnson Ohana Charitable Foundationhas made over $1.3 million in donations to date. and as part of the 2010 To The Sea World Tour, donated $525,000 directly to the 2010 All At Once Non-Profit Partners. An additional $700,000 was raised by these non-profits through the All At Oncematching donation program. You can support All At Once non-profits in your community. Make a donation, become a member, or sign up for volunteer opportunities.
CAPTURE YOUR COMMITMENT:

The 2010 All At Once campaign focused on supporting non-profits that engage fans in the realms of sustainable local food systems and plastic free initiatives.
At Jack Johnson's shows and on AllAtOnce.org thousands of members made environmental commits via the Capture Your Commitment campaign. The All At Once community, in partnership with explore.org, encouraged fans to take personal action and make commitments to reduce their individual plastic waste and support locally grown food.
WATER:

Jack and his crew reduced the use of single use plastic bottles on tour and backstage. All water came straight from the tap, filtered with Brita's filtration systems and hydration stations.
As a result, the band, crew and concert-goers saved over 55,000 single use water bottles from being consumed and thus ending up in the wastestream.
Concertgoers were able to fill up their own reusable water bottles for free at All At Once Water Stations located throughout each concert venue and over 6,000 concert-goers took the Filter For Good pledge to become plastic free. To learn more about Plastic Free initiatives visit AllAtOnce.org and to learn more about Brita's Filter For Good campaign visit: www.filterforgood.com.
RECYCLING & WASTE REDUCTION:

Backstage, Jack and the crew made every effort to make the shows zero waste events through recycling, composting, and other measures to limit waste headed for the landfill.
Venue operators and concertgoers did their part to increase recycling and waste diversion efforts. Additionally a parking lot recycling program was instituted, in partnership with Live Nation, to provide bags and easy to find recycling stations in the parking lots. Thanks to everyone for helping to leave the venues cleaner than when we arrived! An estimated 460 tons of waste were diverted from the landfill through these efforts.
TRAVEL:

Over 26,000 gallons of sustainable biodiesel were used throughout North America to fuel tour trucks, buses and on-site generators. Sea freight was used for shipping gear in an effort to further reduce our carbon footprint.
Many fans saved gas, money and reduced their carbon footprint by using the Jack Johnson/Zimride online ridesharing tool resulting in over 100,000 carpool miles. In addition, fans utilized shuttles, mass transit and bus services to get to the shows. These combined efforts saved over 200,000 pounds of C02.
CATERING & CONCESSIONS: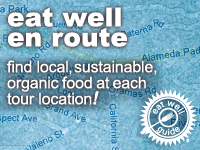 Fans committed to save over 591 million food miles by eating locally grown food at least once per week. As part of a Farm to Stage catering program, tour catering worked directly with local farms and purveyors across North America to source locally grown organic foods. In addition, many local farmers assisted in disposing of tour compost for use on their farms. Disposable cutlery and tableware were biodegradable and made of potato, corn or sugar cane starch.
Over 18,000 dollars was spent on procuring organic and sustainable food from local farmers and farmer's markets in each community the tour visited.
The All At Once Community partnered with the Eat Well Guide to create 33 custom guides to help fans find fresh, local and sustainable food in each city the tour visited. Visit www.eatwellguide.com to find restaurants, farmer's markets and local CSA's in your area.