5 Gyres SEA Change Expedition & Youth Summit
July 01, 2015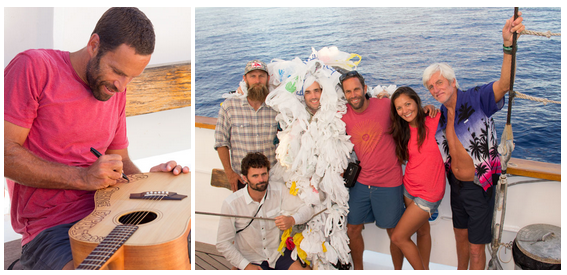 On June 2, Jack set sail out of Miami alongside scientists, artists and environmental leaders, aboard the Mystic, a 167 foot tall ship schooner, conducting research on the impacts of plastic ocean pollution. The SEA Change Expedition, organized by The 5 Gyres Institute, brought together ocean advocates including Jack, explorer Céline Cousteau, surfers Keith and Dan Malloy, body surfer/artist Mark Cunningham, and freediver Kimi Werner, as well as other experts, industry leaders, and non-profits to research the edge of the North Atlantic Subtropical Gyre.

The expedition covered three legs - Miami to Bahamas, Bahamas to Bermuda, and Bermuda to New York. While in the Bahamas, Jack participated in the SEA Change Youth Summit, with students and educators gathering to explore plastic free solutions. 5 Gyres, The Island School, and All At Once partnered to bring together local Bahamian and US students to engage in hands-on activities including citizen-science and advocacy training, a DIY toothpaste workshop, a recycled art project and Trashion show. Jack joined students to participate in a cultural activity lead by art teacher and Space to Create founder, Will Simmons in which original songs about plastic pollution were created to the Junkanoo beat provided by the visiting South Eleutheran students from Preston H. Albury High School.
Jack took some time out on June 8, World Oceans Day to explore and celebrate the ocean after an incredibly inspiring Youth Summit. The next day he departed on Leg 2 of the SEA Change expedition, a 7 day sail to Bermuda, helping to research and map the distribution and abundance of plastics in the ocean using high speed trawling nets. It is estimated that there are 5.25 trillion pieces of plastic in the world's oceans. While on the boat, Jack engaged in many conversations centered on solutions, rethinking product design and legislation to ban single-use plastics.