Jack Announces Global Livestream 'Live From Hawaiʻi'
July 18, 2022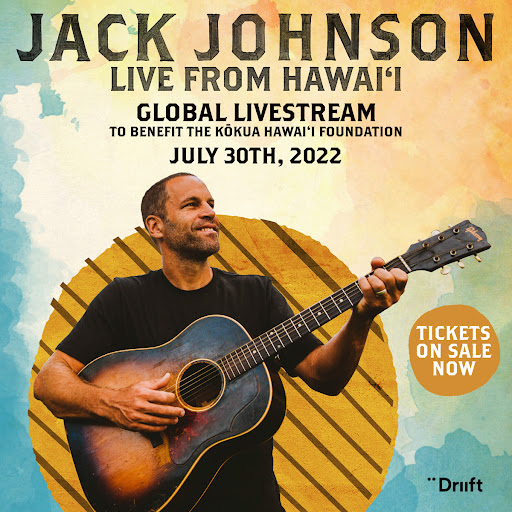 We are excited to announce Jack's Hawaiʻi show on July 30, 2022, will be livestreamed globally as part of his 'Meet The Moonlight' Tour! The concert will be broadcast live from the iconic Tom Moffatt Waikiki Shell in Honolulu with friends Paula Fuga and Tavana. All net proceeds earned from Jack's Hawaiʻi shows and the livestream will be donated to the Kōkua Hawaiʻi Foundation to support environmental education in the schools and communities of Hawaiʻi.
"I am excited to be able to share our Hawaiʻi show with anyone who would like to join in on the fun. My good friends Paula Fuga and Tavana will be sharing the stage with us. The show will be supporting the Kōkua Hawaiʻi Foundation. I hope you can join us for a special night of music in support of environmental education. See you at the show!" - Jack
Produced by Driift, this amazing event will be livestreamed globally and in real time from Honolulu on Saturday 30th July at 7:30pm HST / 22:30 PDT / 01:30 EDT* / 06:30 BST* / 15:30 AEST* (*Sunday 31st July).
Tickets grant access to the livestream, and also to unlimited, on-demand, replays which will be available for 48-hours only after the live show has ended. Fans can buy tickets and join the stream, or the on-demand replays, from anywhere in the world.
Tickets for the Jack Johnson "Live From Hawaiʻi" livestream are on sale now. Jack newsletter subscribers have special access to a 20% discount until Wednesday, July 20th at 9am PST. Enter code JACK20 to receive your discount. Get your Tickets Here!