Meet The Moonlight Tour Leg 1 Wrap Up
July 18, 2022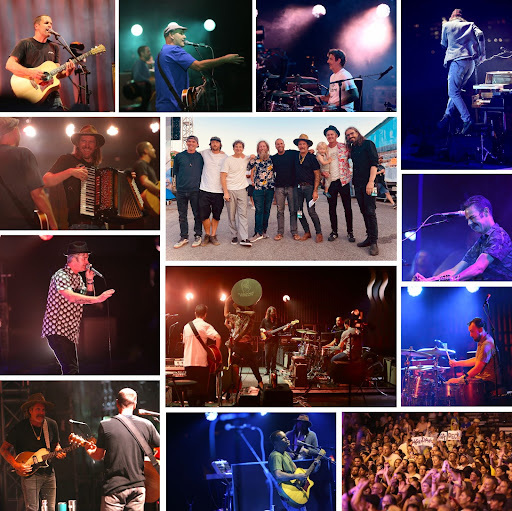 Jack's Meet The Moonlight tour kicked-off on June 21st in Gilford, New Hampshire joined by the super talented Durand Jones and The Indications. Each night they performed a moving rendition of Stevie Wonder's classic, "A Place in the Sun" with Jack and the band.
Jack's new album Meet The Moonlight came out on June 24th and was soon followed by the news that the first week of tour would need to be rescheduled due to Covid. Thank you to the fans, venues and promoters who worked with us for a quick reschedule plan. Luckily Jack recovered quickly and the tour started back up with a sold out show in Chicago, and stops in Detroit and Indianapolis. Next up were a big show in Toronto and Festival hits in Quebec and Ottawa.
A much anticipated stop at Levitate Festival was thrown a curveball with long time bandmates Zach Gill and Merlo Podlewski unable to perform. Luckily Jack was joined on stage by some good friends also playing the festival including Donavon Frankenreiter, Mike Love and Jeff Leonard of Fruition.Longtime friend G. Love also who lives right down the road also came to sit in on some songs making for a very memorable night and a Brushfire reunion!
The following night in Hartford, fans were treated to another unique lineup of G. Love and Dan "Lebo" Lebowitz from ALO. By Tuesday night, Adam Topol fell ill and Tyler Thompson of Fruition joined on drums for the final 3 shows. With the newly rescheduled shows Durand Jones and The Indications were scheduled to be out of the country and we were lucky to welcome Handmade Moments on to the tour. Their stint was highlighted by roaring versions of Mudfootball, and Tom Petty's "You Don't Know How It Feels".
The band and crew are looking for some time off at home before hitting Hawaiʻi for the Waikiki shows followed by Leg 2 of the tour which features special guest Ziggy Marley!