Meet The Moonlight Tour Leg 2 with Ziggy Marley!
September 15, 2022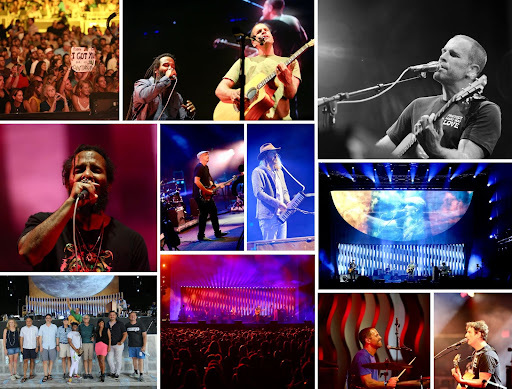 The tour kicked off in the heat of summer in West Palm Beach and made itʻs way West with stops in Tampa, Alpharetta, Raleigh, Charlotte, Nashville, The Woodlands, Austin, Dallas, Denver, Salt Lake City, and ended in Tahoe for two magical nights under a moonlit sky. We want to give a huge shout out to Ziggy Marley, and his amazing band for an incredible leg 2! Some favorite highlights were when Ziggy joined Jack and the band on stage for a special rendition of "High Tide or Low Tide", written by Ziggy's dad Bob Marley. Adam Topol celebrated a birthday and traded his drum sticks for the mic for a version of "Roadrunner", by the Modern Lovers, where he sang and Jack played drums. Merlo Podlewski made a nightly appearance on the microphone for "Time is the Master" by John Holt. Zach Gill entertained the crowd with his buttery voice, accordion solo's and melodica moments throughout the set.
Congratulations to the winners of our Farm to Stage contests that allowed radio listeners to win a soundcheck party and dinner with a local chef focused on sustainable local food systems. We partnered with WFUV/NYC and Tom Colichio's Temple Court, WRNR/Baltimore and Spike Mendelsohn's PLNT Burger, WAPS/Akron and Allie Umansky's Larder Deli, WTTS/Indianapolis and Martha Hoover's Cafe Patachou, KGSR/Austin and KKXT/Dallas and Tiffany Derry's Roots Southern Table, and KBCO/Denver and Alex Seidel's Chook Charcoal Chicken.
Thank you to everyone who came out to enjoy a show this summer!