All At Once Comes to Life in the Village Green
July 18, 2022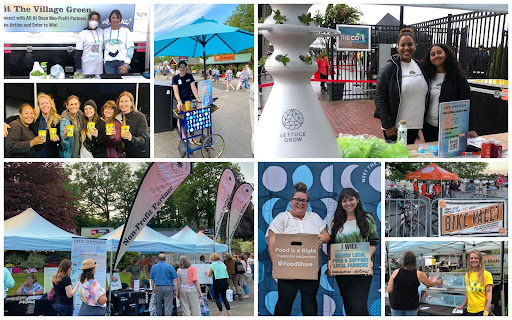 The Village Green came to life on Leg 1 of the Meet the Moonlight Tour, with thousands of people connecting with more than 60 All At Once Non-Profit Partners. Shout out to our amazing REVERB volunteers who helped the Village Green run smoothly, supporting the Capture Your Commitment campaign and promoting water refill stations and reusables. Through our Village Green engagement campaign, fans took action at each show and entered to win prizes including Best Seats in the House and a custom Jack Johnson Solé bicycle. Concertgoers arrived by sustainable transportation, with over 300 people biking to the shows in Chicago and Toronto, supported by our incredible bike valet partners World Bicycle Relief and Cycle Toronto!
Fans are loving theBetter Together Berry Smash, a delicious organic cocktail served in a reusable Jack Johnson metal pint cup! The cocktail is part of a larger effort to reduce plastic waste at the shows.The crew has been working hard behind the scenes to expand sustainability and waste reduction efforts, collaborating with venues to source local food & support local farmers through a Farm to Stage program, and ensuring that leftover food is donated to hunger relief organizations. We are working with Conscious Alliance to raise funds for national food security through a custom Jack Johnson 'Art that Feeds' poster designed by Wooden Wave.
We are proud of what we've already accomplished together and are looking forward to the special home-town shows coming up in Hawaii and the rest of the tour! Whether or not you'll be joining at an upcoming show, everyone can take action and enter to win prizes on Propeller including concert tickets, an autographed Taylor koa guitar, and more!