Every Kid in a Park Hawaiʻi Kickoff Celebration
November 20, 2015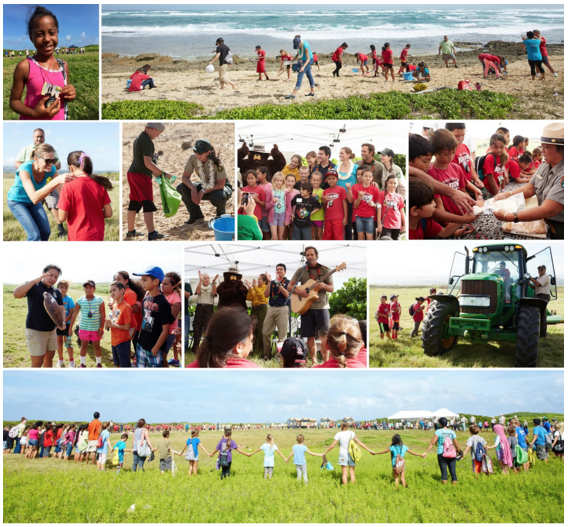 Every Kid In a Park Hawaii Launch - All Photos by Ryan Foley except top (L) courtesy of US Forest Service
Last week, Jack and his wife Kim joined over 200 4th graders from Oahu to explore the James Campbell National Wildlife Refuge and celebrate the launch of Every Kid in a Park in Hawaiʻi. Students participated in fun, hands-on activities including a marine debris beach clean-up and native plant restoration, and learned about habitat preservation for endangered water birds and sea turtles. The celebration, hosted by the Kōkua Hawaiʻi Foundation, National Park Service officials, and Outdoors Alliance for Kids, helped connect students to Hawaii's unique natural resources and cultural heritage while exploring the beautiful lands and waters in their own backyard.
Every Kid in a Park is a White House initiative providing an opportunity for all 4 million 4th graders in America to receive free admission to national forests, parks, or federally managed lands or waters. Kids can learn about their heritage, connect with nature, and spark a lifelong commitment to enjoying and saving places that matter. The Every Kid in a Park website offers info on how to obtain a voucher and pass, tips for trip planning, and how parents and educators can get involved.
Jack and Kim are excited to announce their support for Every Kid in a Park with a commitment via their Kōkua Hawaiʻi Foundation to fund $100,000 worth of field trip grants, with the goal of reaching all 17,000 4th grade students in the state of Hawaii!

Our Country is full of spectacular landscapes where kids can play and learn. Experiencing these natural wonders and historic sites can inspire an interest in conservation and help students gain skills in science, technology, engineering, arts, and math through hands-on experiences in nature. To learn more, visit: www.everykidinapark.gov.