"From Here To Now To You" Tour Announce
June 17, 2013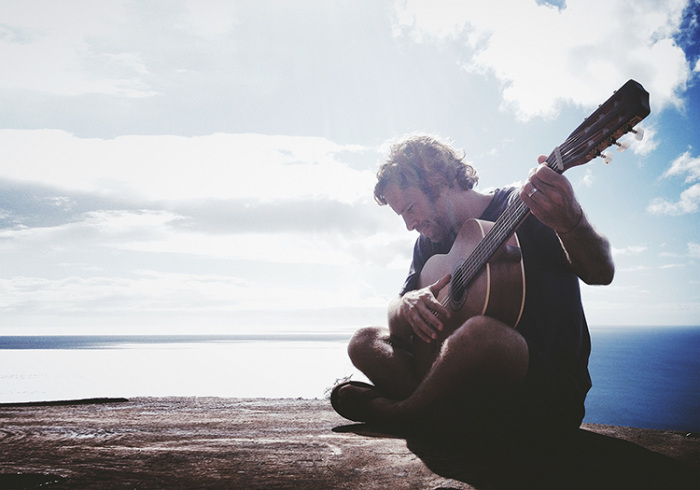 Check out the cover art for Jack's new album "From Here To Now To You" which will be released on September 17th.  It was designed by Geoff Mcfetridge and the photo was taken by Kim Johnson.
There will be a preorder launching on www.jackjohnsonmusic.com soon, but in the meantime you can preorder the album, and get the single "I Got You" now on iTunes
On September 23rd, Jack will bring his "From Here To Now To You"  theater tour to New York City's United Palace Theater. The previously announced North American headline dates are all sold out. Jack and his band will also appear at Farm Aid on September 21st, and the Life is good festival on September 22nd. Tickets to the newly announced New York date will be available only via a fan lottery on Jack's website starting today. Lottery entry will close on Monday July 29th at 10am. There will be a two ticket limit on all purchases to this show. Enter the lottery here.
The lottery process will run as follows:
July 30 – Emails will go out to first round winners and will include a redemption code. First round winners will have guaranteed access to 2 tickets each within a 24 hour window.
July 31 – First Round of Sales will open at 10 am EST and fans will have 24 hours to use their redemption code to purchase tickets. Please note that after the 24 hour period, the codes will no longer work, so get your tickets early.
Aug 5 – Additional fans will be notified of available tickets and distributed redemption codes.
Aug 6 – Sales will open at 10am EST and will be sold on a first come, first served basis, with a 2 ticket limit to fans with redemption codes.
Jack Takes VH1 Inside the Making of his latest video for the first single "I Got You" off his new record From Here To Now To You. Check it out here!
The band started rehearsals this week in preparation for their upcoming From Here To Now To You Tour. Looking forward to a great run and hope to see you at a show!
Jack Takes VH1 Inside the Making of his latest video for his first single off the new album, "I Got You", check it out here!
In support of his sixth studio album, From Here To Now To You, Jack played two very intimate acoustic shows where he performed songs from his new record for the first time last week at London's Tabernacle in Notting Hill and Monday night at New York City's Allen Room at Lincoln Center overlooking Central Park. Along with the new songs, Jack also played some classics. At the New York show when Jack played "Home," he explained to the crowd, "I've realized home is anywhere your family is. Tonight, this is our home." Thanks to all who came out to the shows and with the announcement of Jack's North American and European Fall tour, we hope to see more of you this fall.


It's that time of year again, Farm Aid announced earlier this week a star stellar lineup for its 2013 music and food festival, scheduled for Sept. 21 at Saratoga Performing Arts Center (SPAC) in Saratoga Springs, N.Y. Jack and the band will join Farm Aid board members Willie Nelson, John Mellencamp, Neil Young and Dave Matthews along with Tim Reynolds, labelmate Bahamas and many more talented musicians at this years 2013 Farm Aid.

Farm Aid's all-day music and food festival will spotlight family farm food and hands-on activities that will engage concertgoers in activities that give them a true understanding of why family farm agriculture is so important.

Help support Farm Aid's mission to build a vibrant, family farm-centered system of agriculture in America and come hear some great music!

Tickets for Farm Aid 2013 will go on sale this Friday, June 28, at 10 a.m. EDT. Tickets will be available at www.ticketmaster.com, at the SPAC Box Office or by phone at 800-745-3000. Additional ticket information can be found at www.farmaid.org. To learn more about the Farm Aid 2013 lineup, visit www.farmaid.org/lineup.
My friend Emmett and I made this video on an old wind up 16mm camera that we used to shoot our old surf films on. With our friend Dave manning the camera, we drove around Oahu and made it up as we went. It was a fun day and hopefully that translates in the video." - Jack

Jack's official video for the first single "I Got You" off his new record From Here To Now To You will premiere this week on Huffington Post! The video was shot around Oahu by cinematographer Dave Homcy and directed by Emmett Malloy. Keep your eyes peeled and be sure to sign up for Jack's socials for all the details.
While in NYC last weekend, Jack joined Rockaway neighbors and community partners to build a community garden and work on improvements at the smallwater Community Center and Garden. Volunteers built garden beds, planted apple trees and helped to transform the vacant lot into an educational garden and multi-use space for the community. The smallwater Garden will be a source of local fresh produce and will provide a sustainable space for educational workshops and gatherings. Programming will include classes on nutrition, cooking, gardening, and environmental education.

"It's always amazing to see how fast you can build a garden with so many helping hands. It's exciting to see the progress at the Rockaway beach smallwater Community Garden." - Jack
The volunteer event represents a culmination of support from local community groups including Waves for Water, as well as ioby and Green Guerillas, which Johnson has supported over the years through his All At Once community when touring brings him through New York.

In the wake of Hurricane Sandy, Jack and his wife Kim made personal donations to local relief efforts and dug in to support the smallwater garden project. Now you can help too! Through his Johnson Ohana Charitable Foundation, donations made to smallwater through ioby will be matched until the project is fully funded.
"Johnson and his band overcame tough odds and thorny logistics to headline the Bonnaroo Music & Arts Festival on Saturday night, replacing late cancellation Mumford & Sons. Despite the short notice, they produced a set filled with good humor, mellow vibes and a ton of hits." - Associated Press
After a last minute cancellation Jack and the band stepped up to the plate and played a headline set in place of Mumford & Sons this past weekend at Bonnaroo. The call came in late Thursday night from Bonnaroo asking if Jack and the band would help out because of a last minute cancellation from Mumford & Sons due to their bassist Ted Dwayne who is recovering from surgery to remove a blood clot from his brain. With some clever work from his tour manager and management team, Jack was able to get all the band together, rent stage equipment and rehearse in less than 48 hours to play the first set together since last years Farm Aid.
The night was complete with some classic sing-a-longs, Jack's newest single, "I Got You", a new ditty called "Bonnaroo", and of course a cover by Mumford & Sons, "The Cave". And if the night hadn't already gone great, right as Jack finished his encore solo, the skyline was filled with a firework show to wrap up yet another beautiful Tennessee night. Thanks Bonnaroo and get well soon Ted!
Here's a peek at some of the action: http://www.youtube.com/watch?v=9o5OFfBI2no
Read more about the show below:
http://www.rollingstone.com/music/news/bonnaroo-2013-jack-johnson-saves-the-day-20130616#ixzz2WPjoSbL7
http://www.billboard.com/biz/articles/news/legal-and-management/1567065/jack-johnson-fills-bonnaroo-headlining-set-for
http://www.philly.com/philly/entertainment/music/20130616_ap_jackjohnsonpullsofftheswitchatbonnaroo.html
http://music.yahoo.com/blogs/live/jack-johnson-bonnaroo-last-minute-headliner-writes-last-152927513.html
http://www.aceshowbiz.com/news/view/00061278.html
For the fall tour, Jack and his production team, alongside Reverb, will continue to pave the way in green touring practices and community engagement initiatives. Tour vehicles will be fueled by domestic sustainable biodiesel wherever possible, concertgoers will be offered mass transportation options, waste reduction measures will be expanded and single-use disposable water bottles will continue to be eliminated backstage. In addition, the tour will source local food from "farm to stage" produce, offer eco-friendly merchandise, provide free water refill stations and invest in community based carbon offset projects. Details coming soon, visit: www.jackjohnsonmusic.com/greening



Through ongoing promotion of the All At Once campaign, Johnson's fall From Here To Now To You Theater Tour will support over 75 hand-chosen community groups across Europe and North America with direct and matching donations. This year's All At Once campaign will focus on engaging fans to take action in support of sustainable local food systems and plastic free initiatives.
Great friend and talented water cinematographer, Dave Homcy, helped shoot the new lyric video for Jack's first single off the album, "I Got You". Check it out here. Stay tuned for the official video premiering soon!



If you missed the news, the album's first single, "I Got You" is taking off at radio and is now available to purchase on iTunes alongside a full album pre-order. Click here for more info. And if you have not heard the single yet, Listen here
Jack, Adam, Merlo and Zach will hit the road this Fall in support of their sixth studio album, From Here To Now To You, to be released on September 17th through Jack's Brushfire Records. Jack and the band will kick off their Theater tour in Europe on September 5th, and return to the States with a headline performance at Life is good Festival on September 22 in Canton, MA. From there, inspired by his solo acoustic Hawaiian Islands Theater Tour last year, Jack will play some of the most beautiful and intimate seated theatres in North America including Nashville's Ryman Auditorium, Seattle's Paramount Theatre and the Orpheum Theatre in Los Angeles, CA. As Jack told Rolling Stone about his 2012 Hawaiian Islands Tour:
"They were the most magical shows," he says. "It gave you the time to tell stories and where the songs came from. I really enjoyed that. I think we're going to mix it up next year with different types of tours, but at least for a lot of it, we're going to try to do some theaters."
With 25 of his 28 fall tour venues in historic theaters, Jack is doing just that. As with all of his tours since 2008, Jack will donate 100% of his tour profits to charity.
Enter for a Chance to Buy Tickets
Tickets for Jack's upcoming fall tour of North America will be available exclusively through a lottery on https://jackjohnsonmusic.com/tour allowing you a fair shot at getting a ticket to these intimate theater shows. From today, June 17 at 10:00 AM ET until June 24 at 10:00 AM ET, fans can enter the lottery for a chance to purchase up to 4 tickets to the show of their choice. Winners will be selected after June 24th and contacted by email with purchase instructions. In Europe, tickets will be sold through normal ticket outlets. The European shows go on sale to the public this Thursday, June 20th and Friday, June 21st. Please check local show information for onsale times here