Jack & Friends Santa Barbara Bowl Recap
April 19, 2018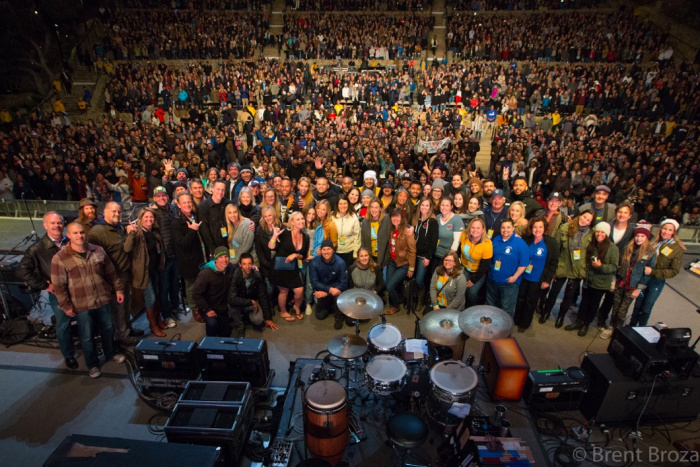 Photo by Brent Broza
The final numbers are in and we're happy to report that Jack's sold out Santa Barbara Bowl show, Jack Johnson & Friends - a Benefit for the Community, has raised over $500,000 to support Thomas Fire and Flood recovery! Funds will be directed to United Way Thomas Fire & Flood Fund, and to local non-profits working on relief and recovery efforts in Santa Barbara and Ventura Counties. The March 18th concert donated 100% of profits, combined with contributions from the Santa Barbara Bowl Foundation, Goldenvoice/AEG, AXS, local businesses, fan donations, and Jack and Kim's own personal contribution.
The incredible evening brought the community together to heal, alongside first responders who watched from side stage, memorable performances and collaborations from Jack, Ben Harper, ALO, David Crosby, Hana & Kenny Loggins, Stewart Cole & Orpheo McCord (from Edward Sharpe & the Magnetic Zeros), and more. For a full recap of the night, click here.
After helping to dig out local homes with the Santa Barbara Bucket Brigade, bringing the community together for the benefit concert became even more meaningful for Jack. "I hope everyone enjoyed the event as much as my band, crew, and I did," said Johnson. "The process of working together with so many friends to support our community ended up being healing in itself. We are so grateful to everyone who helped make the evening possible."
As the primary beneficiary, more than $200,000 will be directed to the United Way Thomas Fire and Flood Fund, with 100% percent of donations directly supporting impacted individuals and communities. Additional funds will be distributed to our local relief and recovery non-profits partners including Direct Relief, Santa Barbara Foundation, Foodbank of Santa Barbara County, FOOD Share, Search Dog Foundation, Greater Goods, Habitat for Humanity, Santa Barbara Response Network, Santa Barbara Bucket Brigade, Explore Ecology, the SB Support Network, and more.
Mahalo to the local businesses and foundations who made financial contributions including Sonos, Deckers, Patagonia, Procore, Yeti, Cox, Reicker Pfau, North Star Legal Advisors, Smartees, and the Hutton Parker Foundation. A big thank goes out to the other businesses who supported the event through in-kind donations of food and drink including, Duo Catering, Brander Vineyards, Rincon Brewery, M. Special, Carr Winery, Kaena Wine, Santa Barbara Cider Company. More gratitude for the production donors for the event which include Oniracom, Screenworks, Rat Sound Systems, Road Radios, Delicate Productions Inc., United Brown Special Event Structures, and Stage Call Specialized Transportation. Additional funds were raised through a charity ticket auction, via a Facebook livestream of the show, as well as 100% of merchandise proceeds.

To make a donation to the United Way Thomas Fire and Flood Fund visit: http://www.unitedwaysb.org/disaster