Jack Supports Refugio Oil Spill Response in Santa Barbara
May 28, 2015

Photos of oil spill and clean-up efforts courtesy of Environmental Defense Center and Erin Feinblatt Photography
Jack spent his college days surfing just a few miles from last week's Refugio Oil Spill, which leaked more than 100,000 gallons from an inland pipeline break and coated the ocean and shore in black oil. As cleanup efforts continue, and as the damage to wildlife and the coastline are being assessed, there are several ways to show your support.
Support the Stand in the Sand Community Rally - Sunday, May 31st
A Stand in the Sand community event will take place in Santa Barbara on May 31st. Community members will form a "human boom" to symbolically stem the rising black tide, linking arms at the water's edge. Speakers will discuss oil response activities and solutions for sustainability. You can donate to the Stand in the Sand fund which will support regional wildlife rescue and recovery groups working on the response to the oil spill. #StandinTheSand

Support the Environmental Defense Center in response efforts to the Refugio Oil Spill
The Johnson Ohana Charitable Foundation is making a donation to the Santa Barbara based Environmental Defense Center which has been working around the clock monitoring the oil spill and response, keeping the public informed, coordinating with other groups, and communicating with elected officials. They have just received an offer to match donations up to a total of $25,000! Support the EDC's response to the Refugio Oil Spill and help them prevent other oil threats in Santa Barbara in the future. Learn more and double your donation!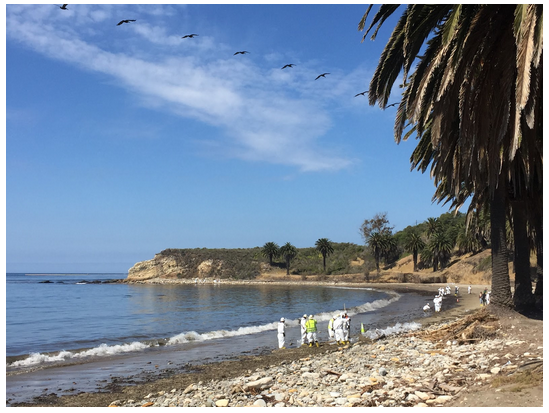 Photo of Refugio State Beach courtesy of Environmental Defense Center
Sign the Change.org Petition to say #NoMoreRefugios
California residents can also sign and share the Change.org petition and contact state legislators to say #NoMoreRefugios and no more offshore oil drilling in California. SB 788, the California Coastal Protection Act of 2015, would protect our Marine Protected Areas and help the state achieve greenhouse gas and fossil fuel reductions, while reducing the risk of another devastating oil spill.
Online petitions are important, but it's essential to remember that it will require lifestyle changes to reduce dependency on oil. Consider carpooling, taking public transit, driving less and biking or walking more. Commit to reducing your use of single-use plastics which require a tremendous amount of petroleum to produce and are useful for only a few minutes. The 1969 oil spill in Santa Barbara literally launched the modern environmental movement, and we hope that this spill will also motivate personal behavior change, as well as big-picture efforts toward a more sustainable and clean energy future.