KŌKUA FOR KAUA`I
May 03, 2018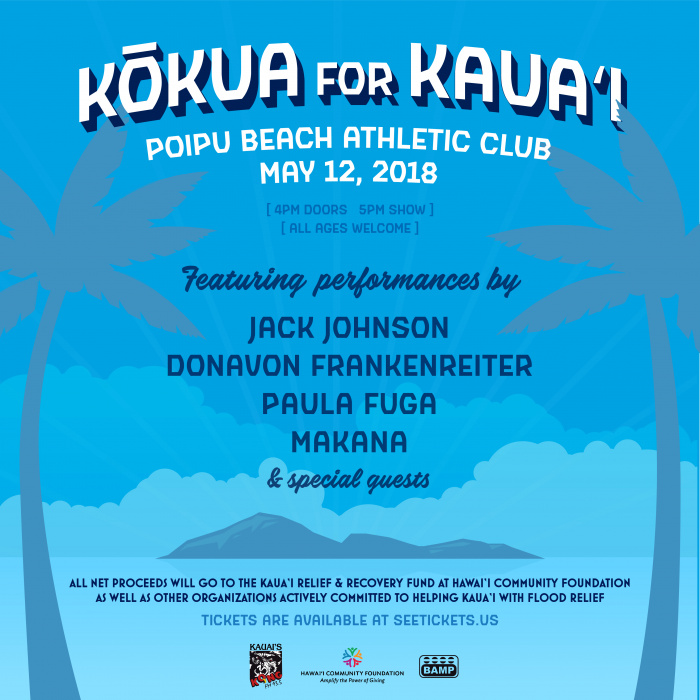 KŌKUA FOR KAUA'I, a benefit concert for Kaua'i flood victims, will take place Saturday, May 12, 2018 at the Poipu Beach Athletic Club. Jack will be performing, along with Donavon Frankenreiter, Paula Fuga, Makana, and other special guests. Tickets go on sale tomorrow, Friday, May 4, 2018 at 10 AM HST online at www. bampproject.com and www.seetickets .us.
Last month, record-breaking rains in Hawaii caused widespread devastation on Kaua'i leaving thousands of residents in need of support to rebuild their homes, businesses and farms. This concert was sparked by local musicians and community leaders who are passionate about spreading aloha and helping the people of Kaua'i get back to normal life. Donavon Frankenreiter, a Kaua'i resident and musician, called Jack to help put on a benefit show for the community. Local promoter, BAMP Project, jumped on board to coordinate the event and several more musicians and local businesses have rallied together to host a night to raise money and lift the spirits of the locals who have been through so much.
All net proceeds will go to the Kaua'i Relief & Recovery Fund at Hawai'i Community Foundation as well as local organizations committed to flood relief. The Kaua'i Relief and Recovery Fund was established to provide immediate assistance including emergency provisions, shelter and healthcare, as well as ongoing support to stabilize communities and rebuild.
This will be a plastic free show! Every effort will be made to eliminate single-use plastic backstage and at concessions. All beverages will be served in cans, serveware will be compostable, and no single-use plastic water bottles will be sold. Fans can bring in their own empty reusable water bottles or cups to refill at the Menehune Water Refill Stations. Recycling and zero waste stations will be coordinated by Zero Waste Kauai.
To learn more about the benefit visit: www.bampproject.com or www.jackjohnsonmusic.com. To make a direct donation to the Kaua'i Relief & Recovery Fund at Hawai'i Community Foundation, donations can be made online at HawaiiCommunityFoundation.org/KauaiRelief. Please reference "community" in the comments section so we can track the donation efforts!