Plastic Fantastic?
February 17, 2016
Jack recently joined local Oahu students on the opening day of the See Art Make Art tour for Plastic Fantastic?, an exhibition at Honolulu Museum of Art Spalding House that focuses on the past, present and future of plastic, as illustrated through art. After touring the exhibit, Jack and the students had a chance to make art through a hands-on activity using plastic pollution recovered through beach cleanups on Oahu.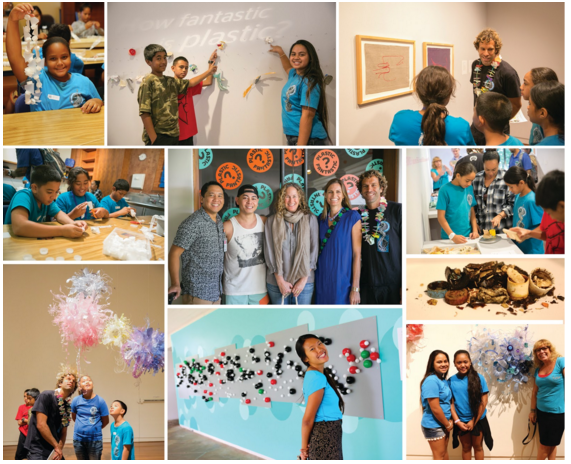 Photos by Shuzo Uemoto & Kizzy O'Neal
Jack was excited to join these 6th graders from Kamaile Academy, as he engages with this school regularly as a Plastic Free Hawai'i participant, as well as through his role as an artist ambassador for Turnaround Arts. Last fall, Jack joined Kamaile Academy for a beach cleanup as a kick-off to their Plastic Free Hawai'i School Mural project. The school has connected this art project with a larger plastic theme including science, stewardship, and a tour of Plastic Fantastic? to give students a chance to view thought-provoking plastic art made by contemporary artists.
The exhibit will run through July 10. Check out this Honolulu Magazine article to learn more & see photos of Jack with the students on opening day!