Plastic Free July
July 01, 2015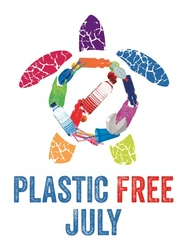 Plastic Free July aims to raise awareness of the amount of single-use disposable plastic in our lives and challenges people to do something about it. You can sign up for a day, a week or the whole month and try to refuse ALL single-use plastic or try the TOP 4: plastic bags, water bottles, takeaway coffee cups and straws.
Join thousands of people from over 70 countries saying NO to single-use plastic this July. Take personal action and get involved locally. The Ecology Center in Berkeley, California is hosting a series of events for the community to take action and get tips on reducing plastic waste.
Jack would like to congratulate the City & County of Honolulu, effective July 1, 2015 they become the latest major U.S. city to ban single-use plastic bags at check out. This makes Hawaiʻi the first state with an implemented bag ban across all counties. An amazing feat and a hard fought journey! Check out Kōkua Hawaiʻi Foundation's Plastic Free Hawaiʻi program for resources, tools and ideas to help your school or community go plastic free.
Explore great resources and accept the challenge at www.plasticfreejuly.org.