Santa Barbara Bowl All at Once Sustainability Award
July 30, 2015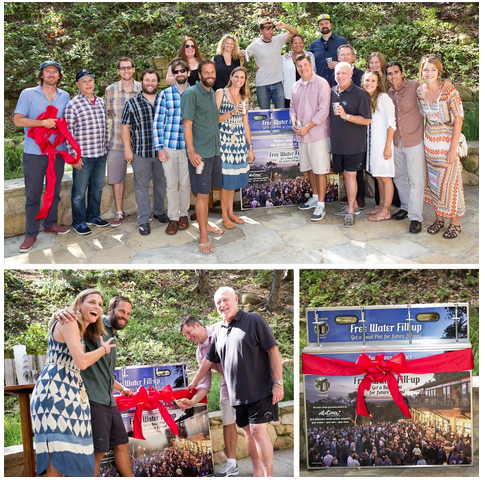 Last week, Jack presented the Santa Barbara Bowl with a custom Water Refill Station, in support of the All At Once Sustainability Award, which recognizes venues making a strong commitment to green practices and the environment. Water Refill Stations will also be presented to the two other award winners, the Merriweather Post Pavilion in Maryland (IMP Presents), and the Nikon at Jones Beach Theater in New York (Live Nation).
The Bowl is being recognized as a leader in venue greening and for implementing best practices, piloting new initiatives, and setting the stage for others to follow particularly with their new #MyPintAndMe campaign to reduce single-use plastic at Santa Barbara Bowl concerts.
"Being an ocean loving community we all appreciate the Bowl's leadership in keeping plastic out of the waste stream, knowing that so much finds its way to the sea," said Jack.
The new Water Refill Station was designed specifically to help reduce single-use plastics at Santa Barbara Bowl concerts. Widely embraced by concertgoers, the Bowl's #MyPintAndMe program lets patrons buy stainless steel pints at each show to replace the single-use plastic cups. Bowl patrons can bring their pint cups to every Bowl show and receive drink discounts for the life of the cup — or use the cup at the new Water Refill Station.
Thanks to patron participation, since the inception of the program the Santa Barbara Bowl has seen cost savings from the reduction in plastic cups purchased and waste hauling fees. Over 10,000 plastic cups have been offset by the sales of Bowl pints and refills since this program started at Jack's August 2014 concerts.
To read more and see more photos from the award ceremony, visit here