Youth Success Stories in Reducing Waste & Single-Use Plastics
April 22, 2015
Several amazing All At Once Non-Profit Partners have been busy working to educate & empower young people to reduce waste and to create innovative community action projects. The Algalita POPs Youth Summit was recently held in Dana Point, California, inviting 75 students and teachers from around the world to dive deep into the issue of plastic ocean pollution and seek out solutions. Check out this inspiring video of the summit!


Youth participate in Plastic Ocean Pollution Solutions Summit, Algalita Marine Research & Education
Grades of Green just announced the winners of the Trash Free Lunch Challenge, a yearlong competition that works with schools to reduce lunchtime waste. Oak Street Elementary, the winning elementary school, involved over 60 students in managing lunchtime sorting stations and compost. Will Rogers Middle School diverted 45 tons of waste! Great job to all of the Challenge schools! Cafeteria Culture is working creatively with 5th graders in New York City to advocate for action to reduce disposable plastic bags. Students in Hawaii, together with the Maui Huliau Foundation have launched the Foam Free Future project to work with local businesses to find eco-friendly alternatives to foam take-out containers.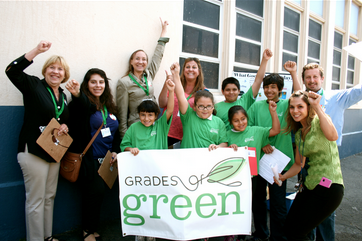 Photo: Winning Elementary School - Trash Free Lunch Challenge: Oak Street Elementary, Inglewood CA
This Earth Day, Jack would like to give a huge shout out to these organizations and young people for reducing waste and promoting solutions! To learn more about All At Once Non-Profit Partners promoting plastic free initiatives, visit www.allatonce.org/explore