Jack Designated a UNEP Goodwill Ambassador
July 01, 2015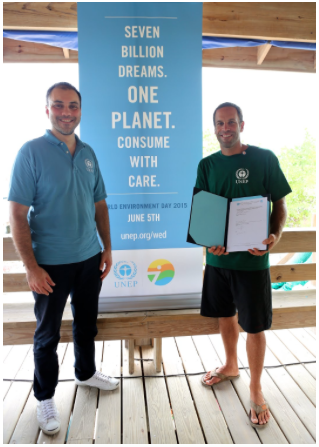 While in the Bahamas at The Island School, Jack took part in a designation ceremony to become a Goodwill Ambassador for the United Nations Environment Programme (UNEP). The designation took place on June 5, World Environment Day, a UN flagship event encouraging worldwide awareness and action for the environment, celebrated in over 100 countries. Jack was honored by the designation and is looking forward to collaborating with UNEP to reach and inspire more people to be active in their local communities.
Following the ceremony, and in celebration of World Environment Day, Jack joined students, visiting UNEP representative Naysan Sahba, Kristal Ambrose of the Bahamas Plastic Movement, and over 100 students, educators and activists to clean a local shoreline and to conduct science on the amount of plastics found within a measured transect. The plastic trash was later sorted by color and size and transformed into recycled artwork, a symbolic SEA Change eye sculpture, with youth summit students led by artist Dianna Cohen of the Plastic Pollution Coalition.
Check out Jack's World Environment Day video shoutout here! Thank you to Mik Cooper for your awesome video work!