Catch the Plastic Free Wave
December 19, 2018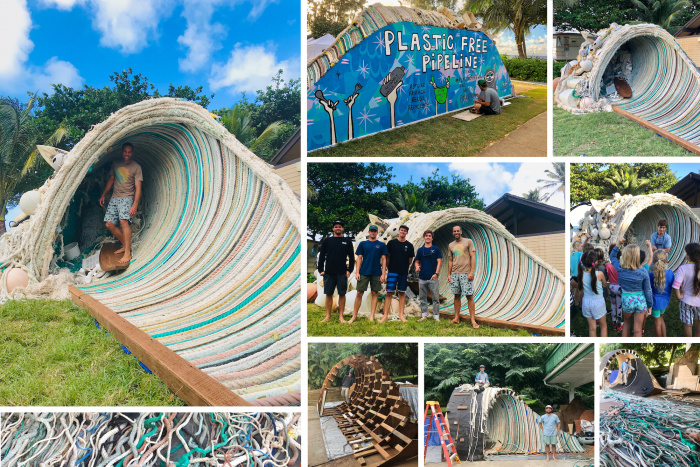 Photos courtesy of K. Johnson, Erik Knutson, Ethan Estess, and Kokua Hawaii Foundation
Join Jack, John John Florence and Kelly Slater to catch the Plastic Free Wave! Surfers and spectators at Billabong Pipe Masters are encouraging ocean lovers around the world to wipe out single-use plastics. As part of the Plastic Free Pipeline Project, ocean artist Ethan Estess teamed up with Sustainable Coastlines Hawai'i, Kōkua Hawai'i Foundation and WSL PURE to create a large sculpture of Pipeline from plastic pollution, fishing nets and reclaimed lumber. The giant wave, an interactive display at the Pipe Masters event this December, is raising awareness about plastic ocean pollution to inspire solutions. Check out this new WSL video highlighting the project!
Local students and Plastic Free Hawaii youth leaders have also engaged in the project helping to collect marine debris and preparing nets for the sculpture. Project partners and educators have been sharing about the project at local schools on Oahu, and students are visiting the sculpture to make plastic free commitments and to learn how the wave was designed as an inspirational blend of art and sustainability.
Will you Catch the Plastic Free Wave? Share your commitment from anywhere in the world and tag #PlasticFreeWave. Check out these Tips To Go Plastic Free to learn what you can do to reduce plastic waste. Big thanks Turtle Bay, Bureo, Hydro Flask and Reuse Hawaii for their support!