Jack Johnson & Friends, a Benefit for the Community
February 07, 2018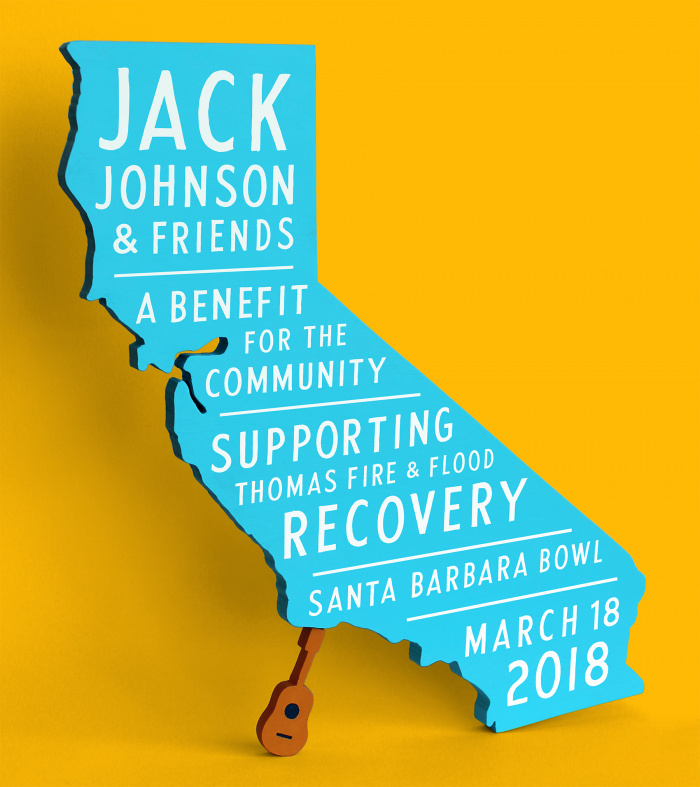 We are happy to announce a benefit concert for the Santa Barbara and Ventura Community. Jack Johnson and Friends, a Benefit for the Community will take place Sunday, March 18th at the Santa Barbara Bowl, in support of ongoing Thomas Fire and Flood recovery efforts. The Thomas Fire, which erupted on December 4th, destroyed hundreds of homes and heavily impacted thousands of people in Ventura and Santa Barbara Counties. A powerful January storm pounded the scorched hillsides above the community of Montecito, triggering devastating flooding and mudslides.
"The stretch of coast from Santa Barbara to Ventura is one of the most beautiful parts of the world with such a strong and close knit community. It was heartbreaking to have so many events affect this region in recent months. In turn, it has been inspiring to see the amount of love, hard work, and collaboration that has gone into the recovery efforts. We are excited to celebrate many of the heroes and do what we can to help rebuild our community!" Jack Johnson
After the rain subsided, Jack began reaching out to fellow musicians and set plans in motion to host a benefit, with a goal of not only raising funds, but also raising spirits through a community building event. ALO, longtime friends with deep roots in Santa Barbara will be opening the night, and Jack will be joined onstage by friends and special guests for an intimate night celebrating the strength and resilience of the community.
There will be a Locals Only Presale Friday, Feb 9th at 2pm local time where folks can buy tickets at the Santa Barbara Bowl Box Office (from 2pm - 6pm) and also online here (from 6pm - midnight). The Public Onsale is Saturday, Feb 10 at 11am local time.
100% of net proceeds will be directed to the United Way Thomas Fire & Flood Fund, and to local non-profits working on relief & recovery efforts in Santa Barbara and Ventura Counties. United Way of Santa Barbara County and United Way of Ventura County are working together to address the short and long term needs of families and individuals impacted by fire and flooding, and are waiving all administration fees so that 100% of funds raised can be put to good use. While the United Way is the primary beneficiary of the Jack Johnson and Friends concert, additional donations will also be made to Direct Relief, Santa Barbara Foundation, Foodbank of Santa Barbara County, FOOD Share (Ventura), Search Dog Foundation, Greater Goods (Ojai), Habitat for Humanity, the Santa Barbara Response Network, and more.
The past year has seen no shortage of natural disasters around the globe. As part of Jack Johnson's All the Light Above It Too 2017 tour, funds were directed to support Hurricane Harvey and Hurricane Irma relief efforts in the US and Caribbean. Johnson has personally supported Northern California Wildfire relief efforts, as well as Thomas Fire recovery. Several organizations receiving support from the benefit concert in Santa Barbara, including Direct Relief and Search Dog Foundation, will continue their vital work responding to disasters around the world.
As part of Jack's ongoing greening efforts to reduce single-use plastic waste, a benefit souvenir cup will be given to every ticket holder.
To learn more about the event and to make a direct donation to any of these non-profit organizations, visit: www.jackjohnsonmusic.com or www.sbbowl.com.