Jack Johnson and Friends, A Benefit for the Santa Barbara and Ventura Community Concert Sold Out
February 13, 2018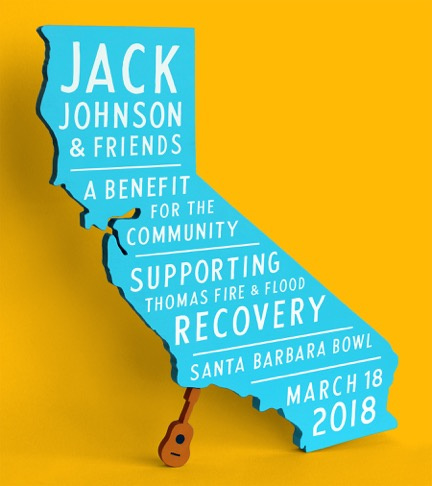 JACK JOHNSON AND FRIENDS, A BENEFIT FOR THE SANTA BARBARA AND VENTURA COMMUNITY CONCERT HAS SOLD OUT
BEN HARPER ADDED TO BILL
100% OF NET PROCEEDS DIRECTED TO
THE UNITED WAY THOMAS FIRE AND FLOOD FUND AND LOCAL NON-PROFITS WORKING ON RELIEF AND RECOVERY EFFORTS
February 12, 2018 – Santa Barbara, CA – Jack Johnson and Friends, a Benefit for the Community concert sold old quickly, with a majority of the tickets going to local residents. The benefit will take place Sunday, March 18th at the Santa Barbara Bowl, in support of ongoing Thomas Fire and Flood recovery efforts. ALO, longtime friends with deep roots in Santa Barbara, will open this special evening and Ben Harper announced today that he will be playing a set before Johnson takes the stage joined by friends and special guests for an intimate night celebrating the strength and resilience of the community.
100% of net proceeds will be directed to the United Way Thomas Fire & Flood Fund, and to local non-profits working on relief & recovery efforts in Santa Barbara and Ventura Counties including: Direct Relief, Santa Barbara Foundation, Foodbank of Santa Barbara County, FOOD Share (Ventura), Search Dog Foundation, Greater Goods (Ojai), Habitat for Humanity, and the Santa Barbara Response Network.
Several organizations recently joined the list of beneficiaries including SB Support Network, SB Bucket Brigade, and Explore Ecology. Johnson is encouraging the community to get involved with these groups upcoming volunteer opportunities in support of cleanup and recovery. The SB Support Network is a grassroots volunteer group that quickly mobilized following the Montecito mudslide to support immediate needs of more than 50 families, providing clothing, school supplies, housing assistance, and arranging links to critical services. The Santa Barbara Bucket Brigade is organizing teams to dig out homes and trees buried in the mud. To sign up to volunteer, visit www.santabarbarabucketbrigade.org. Explore Ecology is hosting "Love Your Beach" events each Sunday in February to clean beaches that may be impacted by the debris flow. Check the calendar at www.exploreecology.org for details. Volunteer with Bucket Brigade or Explore Ecology this month and enter to win a pair of tickets to the show.
In association with the benefit, Jack Johnson is encouraging donations to any of these beneficiaries. Direct donations can be made to these non-profit organizations by clicking on their logo at www.jackjohnsonmusic.com. Donations to the SB Support Network and to the Bucket Brigade can be made via the SBCC Foundation. Designate your donation under "special instructions" by typing: Jack & Friends and Bucket Brigade or SB Support Network.
For people who were unable to secure tickets, there will be an upcoming opportunity to support the cause through a Charity Auction of premium seats. Stay tuned for more details. For additional show information visit:www.jackjohnsonmusic.com or www.sbbowl.com.