Plastic Free July
July 02, 2020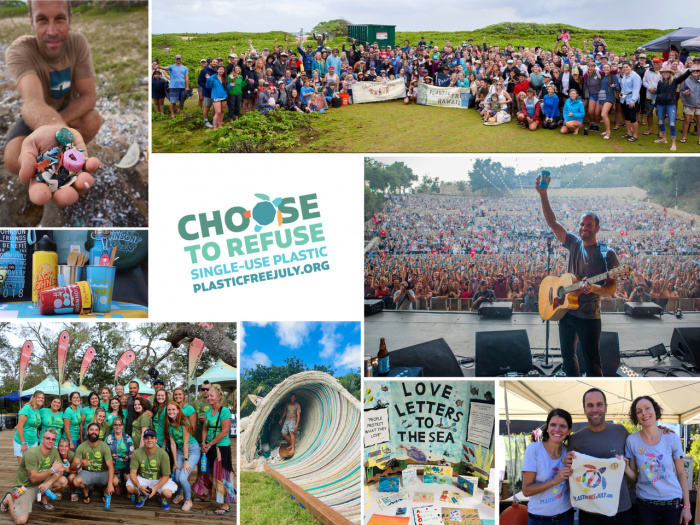 Top: Jack at a Plastic Free Hawaii beach cleanup at James Campbell National Wildlife Refuge on the North Shore of Oahu,
Middle: Jack Johnson reusable tour merch, Jack at the Santa Barbara Bowl for a plastic free show,
Bottom: Jack with All At Once Volunteers in St Augustine, Florida, Jack surfing the Plastic Free Wave by Ethan Estess,
All At Once Non-Profit Partners - Love Letters to the Sea, and Rebecca Prince-Ruiz of Plastic Free July
Jack has made a long-time personal commitment to reduce plastic waste in daily life and on tour, by swapping out disposables for reusables and promoting alternatives. You can join Jack and millions around the world in choosing to refuse single-use plastic this Plastic Free July. Take the Plastic Free July Challenge and learn what you can do by exploring ideas to reduce plastic waste at home, school, work, or for business or events. Start small with reusable bags and bottles, then challenge yourself to continue to reduce plastic waste in more areas of your life.

As a surfer who has seen firsthand the proliferation of colorful micro-plastics washing up on coastlines around the world, Jack encourages everyday actions we can all take. As a musician, Jack has also seen the impact of plastic waste at concerts and festivals, and helped to launch the global BYOBottle campaign to reduce plastic pollution in the music industry. Check out Jack's Top 10 Plastic Free Tips or explore Plastic Free Resources from Kōkua Hawaiʻi Foundation's Plastic Free Hawaii program. Follow the Kōkua Hawaiʻi Foundation socials for tips, resources & inspiration all month long. Thanks to all of the incredible All At Once Non-Profit Partners supporting plastic free initiatives in their own communities, and to all the fans who have made a plastic-free pledge as part of our Capture Your Commitment campaign!