Take Action for Reefs & Oceans
June 01, 2020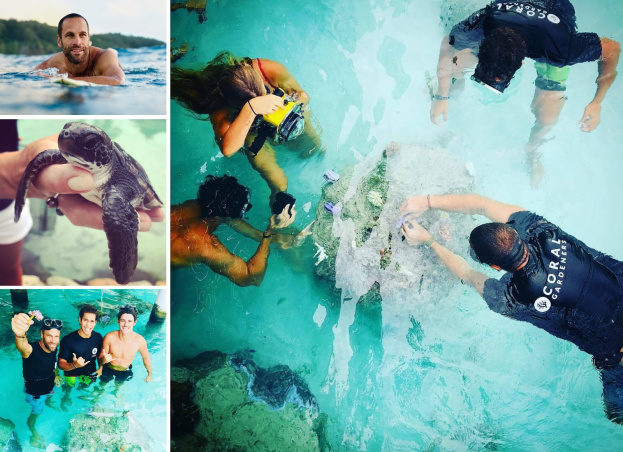 Photos Clockwise from top left: Jack surfing on the North Shore - Photo by Morgan Maassen
Jack planting coral with Coral Gardeners on Moorea - Photos by K. Johnson
Rehabilitated sea turtle at Te mana o te moana on Moorea - Photo by K. Johnson
There are so many ways to support our world's reefs and oceans this June!
World Reef Day - June 1st, is designed to inspire a global conversation about reef conservation and the simple changes we can make, such as using reef-friendly sunscreen and reducing single-use plastics. This year's event will benefit three amazing non-profits that are all part of Jack's All At Once community - Coral Gardeners, Surfrider Foundation, and Mālama Pūpūkea-Waimea - to support their ocean conservation and reef education efforts.
Get inspired to take action for World Oceans Day - June 8th and find or create an event. You can also sign the petition to call on world leaders to #ProtectOurHome by protecting 30% of our blue planet by 2030, or tune-in to the 24 hour Youthathon livestream event on June 6 & 7. On June 8th from 10am-5pm EDT, the United Nations, in partnership with Oceanic Global, is hosting a day-long digital event, highlighting the theme of Innovation for a Sustainable Ocean including presentations from leading ocean voices. You can learn more and register here.
In honor of World Oceans Day, you can also host or join a free screening of Microplastics Madness, created by our friends at Cafeteria Culture and featuring Brooklyn youth working to inspire plastic free action. Cafeteria Culture is sharing a free virtual screening for schools on June 4th, as well as a June 6th screening for families and youth. Check out the trailer here.
On June 13th you can tune-in to a 2 hour World Oceans Day celebration hosted by NOAA, Ko Olina and community partners. This free virtual event will feature musical performances, educational activities, and storytelling with special guests Kimi Werner, Mark Cunningham and Jaclyn Johnson, sharing about their expedition into the Sargasso Sea researching microplastics as part of the story told in the film The Smog of the Sea.
We hope you can join Jack and find your own meaningful way to take action in support of our global oceans and reefs!