All At Once On The Road
November 15, 2013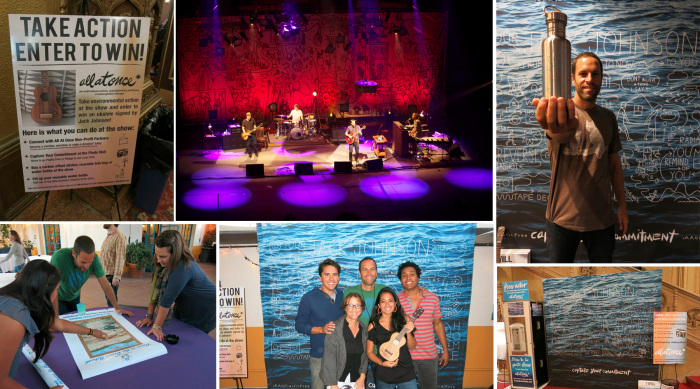 photos by Max Tischler, Jessica Scheeter and Kizzy O'Neal
Jack recently wrapped up his From Here To Now To You Tour of intimate historical theaters through Europe, Canada and the US. Jack, his fans, band and touring crew along with venue operators were successful in minimizing the environmental impact of the From Here To Now To You Fall 2013 Europe and North American tour.
As a result of the collective efforts made during the tour we were able to:
Eliminate the equivalent of over 2,200 single-use 16 oz. plastic bottles from going into the waste stream as a result of free water stations onsite at the shows.
Many of the venues supported the efforts to go plastic free by not selling single-use plastic bottled water.
The tour worked with over 50 farms to purchase local and organic food, sourced wherever possible, for band and crew catering.
36 cubic yards of waste were diverted from the landfill, through recycling and composting efforts at the shows.
Over 3,900 gallons of sustainable biodiesel was used to fuel tour trucks, buses and on site generators

Over 1,800 gallons of Local Used Cooking Oil Biodiesel
Over 2,100 gallons of USA-grown renewable Soy based biodiesel
After all energy conservation measures were taken, remaining CO2 emissions for each show and the entire tour will be offset to support a variety of carbon management projects around the globe.
As a result, an estimated 1,228,965 pounds of CO2 will be offset through green touring efforts and fan participation.
Through direct engagement at the concerts, the All At Once community brought over 2000 interested volunteers and 1100 new members to local non-profit partners.
The Johnson Ohana Charitable Foundation will donate over $150,000 directly to All At Once non-profit partners. An additional$220,000 was leveraged by these organizations through the matching donation program.
Through ongoing promotion of the All At Once campaign, the From Here To Now To You Theater Tour supported over 75 hand-chosen community groups across Europe and North America with direct and matching donations. This year's All At Once campaign focused on engaging fans to take action in support of sustainable local food systems and plastic free initiatives. Visit www.allatonce.org to learn more. An Individual action, multiplied by millions, creates global change!