Win Free Jack Concert Tickets at Beach Cleanups in Australia & New Zealand!
November 15, 2013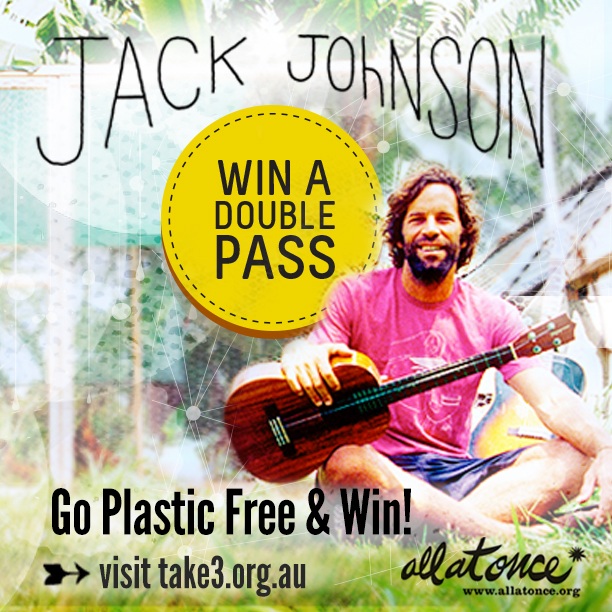 Jack is teaming up with Tangaroa Blue, Sustainable Coastlines, and local All At Once community partners on his upcoming tour of Australia and New Zealand to promote a beach cleanup in each concert location. At each cleanup, all volunteers will be entered to win a pair of tickets to one of Jack's shows. Get involved and raise awareness about marine debris in our oceans and help support plastic free initiatives.
Dec 1st - West Auckland, NZ - Piha Beach 1pm
Contact - sustainablecoastlines.org - meet at South Piha in front of Lifesaving Club. BBQ @5pm
Dec 2nd - Auckland, NZ - Mission Bay/Tamaki Drive 1:30pm
Contact - sam@sustainablecoastlines.org - school, community, corporate groups: meet at Mission Bay car park.
Dec 1st - Perth, Australia - Leighton Beach 9am – 12pm
Contact - alison@tangaroablue.org - meet in Beehive Montessori School beach carpark
Dec 8th - Sydney, Australia - Bondi Beach 4pm – 7pm
Contact - justin@responsiblerunners.org - meet on beach in front of pavilion
Dec 8th - Sydney, Australia - Manly Beach 4pm – 6pm
Contact - info@twohandsproject.org - South Steyne meeting near SLSC
Dec 8th - Brisbane, Australia - Kangaroo Point River Cleanup 9am – 12pm
Contact - cleanoceans12@gmail.com - meet Holman St Ferry Terminal
Dec 14th - Melbourne, Australia - St Kilda 9am – 11am
Contact - chris@responsiblerunners.org - meeting at St Kilda Skate Park. BBQ afterwards.
One more way to win tickets... Take 3 is teaming up with All At Once and the Capture Your Commitment campaign to promote plastic free living. Win a double pass to the Dec. 11th concert in Sydney by sharing a photo showing how you Take 3 or live plastic free. Hashtag #aaoplasticfree and #take3forthesea to enter the draw. Winners announced on Dec. 1st so start uploading!
The Johnson Ohana Charitable Foundation will be matching donations made to the All At Once non-profit partners in Australia and New Zealand through December 31st, up to $US 2500 per group.