Clean the Beach & Enter to Win Tickets to Jack's Shows in Australia and New Zealand!
October 18, 2017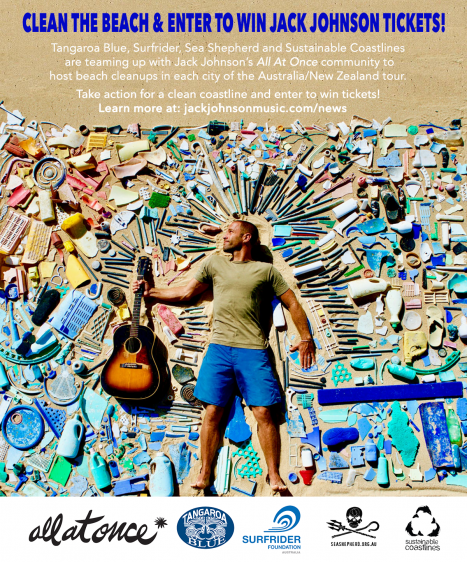 Jack's Australia and New Zealand's shows are almost sold out!
To engage fans and help keep coastlines clean, Tangaroa Blue, Surfrider, Sea Shepherd and Sustainable Coastlines are teaming up with Jack's All At OnceCommunity to host beach cleanups in each city of the OZ/NZ tour! Take action for clean beaches and enter to win tickets! Volunteers are asked to wear enclosed shoes, bring sun protection, a reusable water bottle, a pair of gloves and lots of energy!
Time: 11am – 12:30pm cleanup, 12:30 – 2pm sorting and counting debris
Meeting Point: Brighton Dog Beach, Sandown St, Brighton
Non-Profit Partner: Sea Shepherd
Time: 9:30am – 11:30am
Meeting Point: Port Kembla just south of Sydney, meet at the Surfrider tent at the entrance to the Promenade near Port Kembla ocean pool.
Non-Profit Partners: Surfrider and Tangaroa Blue Foundation
Time: 9am – 12pm
Meeting Point: Westgate Park, 179 Lorimer St, meet next to Westgate Punt Ferry Jetty, Port Melbourne
Non-Profit Partner: Tangaroa Blue Foundation
Time: 10am – 1pm
Meeting Point: Captain Burke Park, 117 Holman St, Kangaroo Point, meet next to the carpark.
Non-Profit Partner: Tangaroa Blue Foundation
Time: 10am – 1pm
Meeting Point: Piha Beach, meet at carpark outside the Surf Life Saving Club in South Piha.
Non-Profit Partner: Sustainable Coastlines

With the growing amount of plastic marine debris washing up on beaches around the world, Jack and his crew, alongside REVERB and Green Music Australia, are working with venues to reduce single-use plastic on the Australia and New Zealand Tour and promoting reusable alternatives at all the shows. As part of a Reusable Pint Program, fans can purchase a reusable pint at the show and use it each time they buy a beverage to reduce single-use plastic waste. People can also fill up their own reusable water bottles for free at the All At Once Water Stations. Venues are encouraged to get rid of straws completely or offer plastic straws "by request only" as well as provide alternatives to plastic serveware at all concessions. In addition to eliminating plastic waste, fans can take action and support plastic free initiatives by connecting with All At Once Non-Profit Partners in the Village Green! We encourage all of you to Go Plastic Free too!