See Jack in Costa Rica - Support Surfrider & Enter to Win CharityStars Sweepstakes
October 15, 2019
Jack is excited for his first ever show in Costa Rica! He is performing at the Coca Cola Amphitheater at Parque Viva in San Jose on Sunday, November 10th. It's sure to be an incredible night. Tickets are available here.

You can support Surfrider Foundation through the CharityStars Sweepstakes and enter to win 2 tickets to meet Jack in Costa Rica! The lucky winner will attend the show as Jack's personal VIP guest, get a sneak peak of sound check, hang with Jack and his crew backstage before his performance, and watch the show from the best seats in the house… the stage! Winners are also invited to participate in a tree planting project with Jack along the coast of Costa Rica. Donate $5 and you will automatically be entered for a chance to win this grand prize! You can also receive cool rewards for donating... including autographed lyric sheets, skateboards, ukuleles, and Jack's guitar!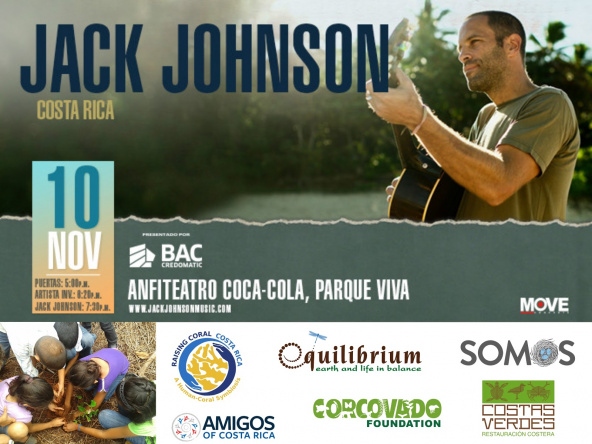 All At Once Non-Profit Partners in Costa Rica are offering prize tickets and hosting volunteer events leading up to the show. Raising Coral Costa Rica will host a reef & beach cleanup on Nov. 2 in Quepos, and the Corcovado Foundation is planning a tree planting event on Nov. 9 in San Jose. Costas Verdes is leading a community restoration event on Nov. 16 and Earth Equilibrium is highlighting their innovative Eco-Schools program through the All At Once partnership. The Somos Foundation will bring a giant whale sculpture made of plastic water bottles to the show to inspire conversation through art. The tour is supporting these groups through Amigos of Costa Rica, a platform which makes it easy for donors to support non-profits in Costa Rica.

These local All At Once Non-Profit Partners will also encourage concertgoers to take action in the Village Green, and the venue is promoting waste reduction, recycling, and encouraging fans to bring their own empty reusable water bottles to refill. We hope to see you at the show!